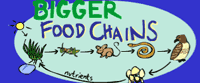 We have been working our way through the Ecosystem....our latest concept is Food Webs. I started by playing a game online using my smart board with the class. If you haven't played this game and you teach food chains, then you need to check it out!
http://www.sheppardsoftware.com/content/animals/kidscorner/games/foodchaingame.htm
It is engaging, fun and educational! We were able to see simple chains first, then work our way up to full chains - complete with decomposers. For my class, it is a review of a concept learned in third grade and a great introduction to the more complicated food web.
After we played the game, I read to them from a Delta Science Module book on Food Chains and Food Webs which explains how energy is transferred.
Then we made food webs posters in groups of three...