How do you teach about
Famous Scientists?
In Virginia we are asked to teach the students about the contributions of Ben Franklin, Thomas Edison and Michael Faraday as it relates to electricity.
I will start today with Ben Franklin...he is my favorite afterall!
Resources to hook the students:
Favorite Video: Animated History - story of Benjamin Franklin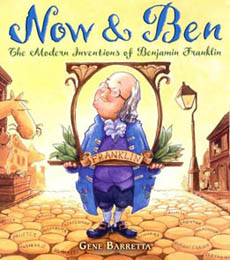 Favorite Books:
I love to connect children's literature to my science lessons.
Now and Ben
is all about how the inventions of Ben Franklin have been modernized and are used today.
Some of my other favorites include the National Geographic version (full of beautiful illustrations), the Step into Reading one (is really about a math puzzle he created) and Ben and Me is just a sweet novel told from his pet mouse's point of view.
So besides these hooks that I use at other times in my day...what do I do? Our standards require that we teach students that Ben Franklin made a major contribution to science by creating the lightening rod. Did you know that lightening is really static electricity? So in keeping with my philosophy using inquiry as a basis for my lesson....we use this worksheet to fill in the main points for both his role in the Revolutionary War and in Science.
You are welcome to grab this
freebie
! I am still working on how to insert a picture and link it to the docucment page. Until I figure it out, here's the link at the bottom.