Once you have your year planned, with a general idea of your scope and sequence and units that may overlap with natural connections, you are ready to move into a more specific, daily lesson plan. Make sure you read all ten especially my favorite one...it's at the bottom!
Just FYI - I did not recieve any FREE products from these sources. These are reviews that I have made just by looking at them online. I want you to know that they are not based on Freebies and I have not purchased any (except the one at the end).
There are a million different types of lesson plan formats. Some you can buy at teacher stores, some are created and bound together on sites like Etsy and others are found on Teachers Pay Teachers. In fact, just doing this research tonight I found TONS of resources. How you choose to plan is up to you and your individual needs.
So here are the Top Ten that I have found online and the links to help you find them.
1. Erin Condren Lesson Planner I have a few friends who swear by this lesson planning format. It's colorful and fun, but in my opinion, at $59 a little too steep for my budget.
2. Farm Girl Journals
This is simliar to the Erin Condren one, but slightly less expensive at $45. Both of these formats have been created by teachers and have color coded sections and a nice spiral binder.
* Included are a
teacher and substitute information section
* 40 two page weekly lesson plan spreads
* 25 double sided blank charts to use as you wish - grades, attendance, check lists, etc.
* 25 double sided notes section to keep track of faculty meetings, planning notes, parent conferences, etc..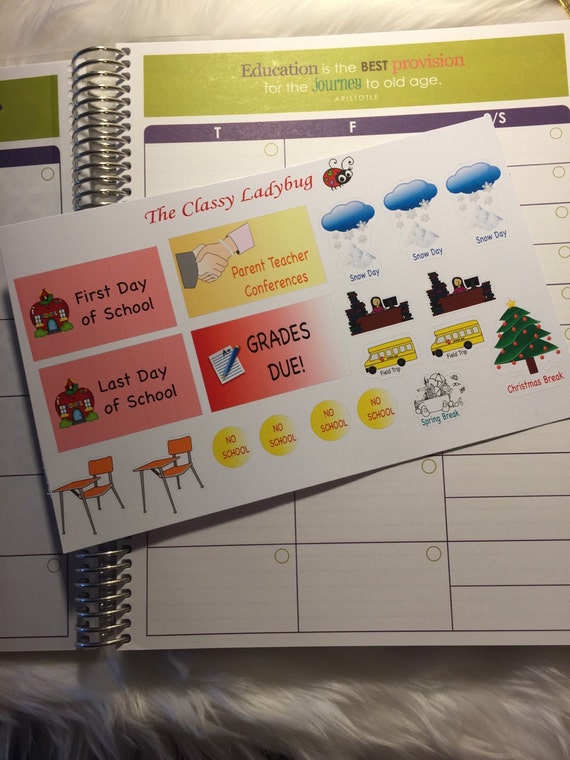 3. More resources are found at Etsy including some stickers and
supplements for these journals. Sometimes it just fun to have stickers! You can get stickers, tabs and more ranging from $4 and up.
4. Another place to look is your typical teachers catalogs and stores. These are pretty traditional and standard.
Quite frankly they haven't changed much in 25 years. But they serve the purpose and many teachers are very comfortable with them. In other words, there is nothing wrong with it! I found this one from Carson Delossa for just $7.99.
If you are looking towards more of a customized look, then head over to Teacher's Pay Teachers. Here you can find just about anything for just about any type of classroom.
5.
Teacher Planner from
A Modern Teacher
.
This planner has forms for everything that you can choose and print. Ther are editable Year at a glance, weekly planning, daily planning, and forms galore! There are several different covers and color options for $14.50.
6. The Ultimate Teacher Binder by One Stop Teacher Shop. This customizable and editable resource has over 1,200 forms. There are forms for planning, organizing and more. I like it because it has lots of "cute" covers. And when days are rough, its nice to have "cute things" around you. LOL! The price is only $11.99.
7. FREE! This is a really great site that I ran across today on Pinterest from the Curriculum Corner. First, the price is right! Second, it has a lot of pages for planning and organizing that you can choose and print off for a binder of your choice. Samples include: Parent contacts, IEP at a Glance, Weekly lesson planning, Password check list, and more! This is not as colorful, but it is FREE.
8.
Sticky Note Planbook: This is a real teacher created idea from The Wise and Witty Teacher . This teacher explains how she made it when you click onto her blog. Basically, she traced the sticky notes to make boxes and then placed different colored notes for different subjects. I like it! When I used to use a paper template I often had to cover up the plan with a sticky note when things changed. For example if I had a plan for a week, and after formative assessments I knew we had to rethink the plan...I just put a sticky note on it. The cost? Well...it depends if you have a spiral notebook and sticky notes already then it is FREE. If not, then the cost is about $5-10. Truthfully, if I didn't love the last resource this is what I would probably be using.
Technology Resources are up last.
9. And the reason for this is because it is what I use and is the newest up and coming tools. This from Tracie Clausen at Dragonflies in First and includes 8 editable cover options, 6 autofill forms and 81 premade templates to meet all of your needs. These can be printed, but also are compatable with your phone and ipad. Genius! Purchase price is $15.00.
10. My favorite and the one I use everyday is www.planbook.com. I can't say enough about this planbook. Three years ago, my colleague, Elena Beard, convinced us to try it in fourth grade. We were nervous at first, but now we LOVE it. First, it is all online, both ipad and for computers, but you can print it or share it (weekly or daily). My entire team uses it -- why? We can share lessons electronically, we can attach documents and worksheets to the lesson plans, we can edit the classes and even add snow days which bumps the lesson plans over to the next day. However, my favorite feature is the dropdown feature where you can embed your standards with a click of the button. At the end of the year, it saves all your plans for the next year and you just edit them as needed. It is the best $12 I have ever spent. I hope you will search this site out like we did, because it is the BEST lesson plan format that I have ever used.
What do you use for Lesson Planning?
Comment: